SCCi Alphatrack
4 Fibre shortlisted for Innovative Product of the Year
The Building Communities Awards has nominated Alphatrack's 4 Fibre solution as 'Innovative Product of the Year.'
The Event
The Building Communities Awards (BCA) is hosted by procurement consortium, EEM Ltd, to recognise and celebrate professionalism, excellence and innovation within the housing and construction community.

Covering a host of categories, such as Collaborative Working, Community Impact and Development Strategy of the Year, the BCA has built up a reputation as one of the biggest and  most important events of its kind in the industry.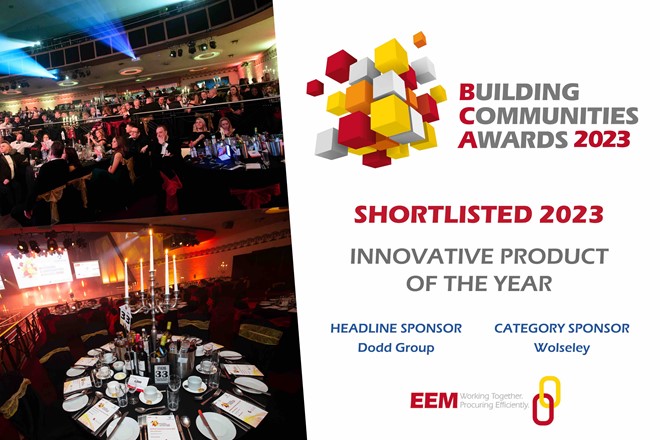 The Award
SCCI Alphatrack is proud to announce an award nomination for Innovative Product of the Year.
This category is open to manufacturers who have developed and launched an innovative product in the housing and construction industry within the last two years. Judges will be looking for a product that stands out in its field for originality, innovation and technical capabilities and that has a proven positive reaction from social housing providers.
Alphatrack's 4 Fibre solution ticked all the boxes, having revolutionised the FTTH industry, allowing up to four ISPs access to multi-dwelling units, via a dedicated fibre line, and a single installation.
The awards ceremony will take place at Leicester's Athena Events Venue, on Friday 3rd March 2023. Good luck 4 Fibre!
We're proud and honoured to see our 4 Fibre solution, nominated for Innovative Product of the Year, it's great to see the Housing and Construction industry recognise the importance of this exciting product. Steve Chesterman, Operations Director, SCCI Alphatrack
To find out more about 4 Fibre, click here
Get in touch
We're passionate about technology, proud of the work we do and would love to share our enthusiasm with you! Please feel free to get in touch to discuss our portfolio of products and services:
webenquiries@sccialphatrack.co.uk or +44 (0)1279 630400