Airwave
Art'otel London Battersea Power Station
Having previously implemented AV technology into Art'otel's Amsterdam property, Airwave were delighted to once again, work with the Art'otel brand....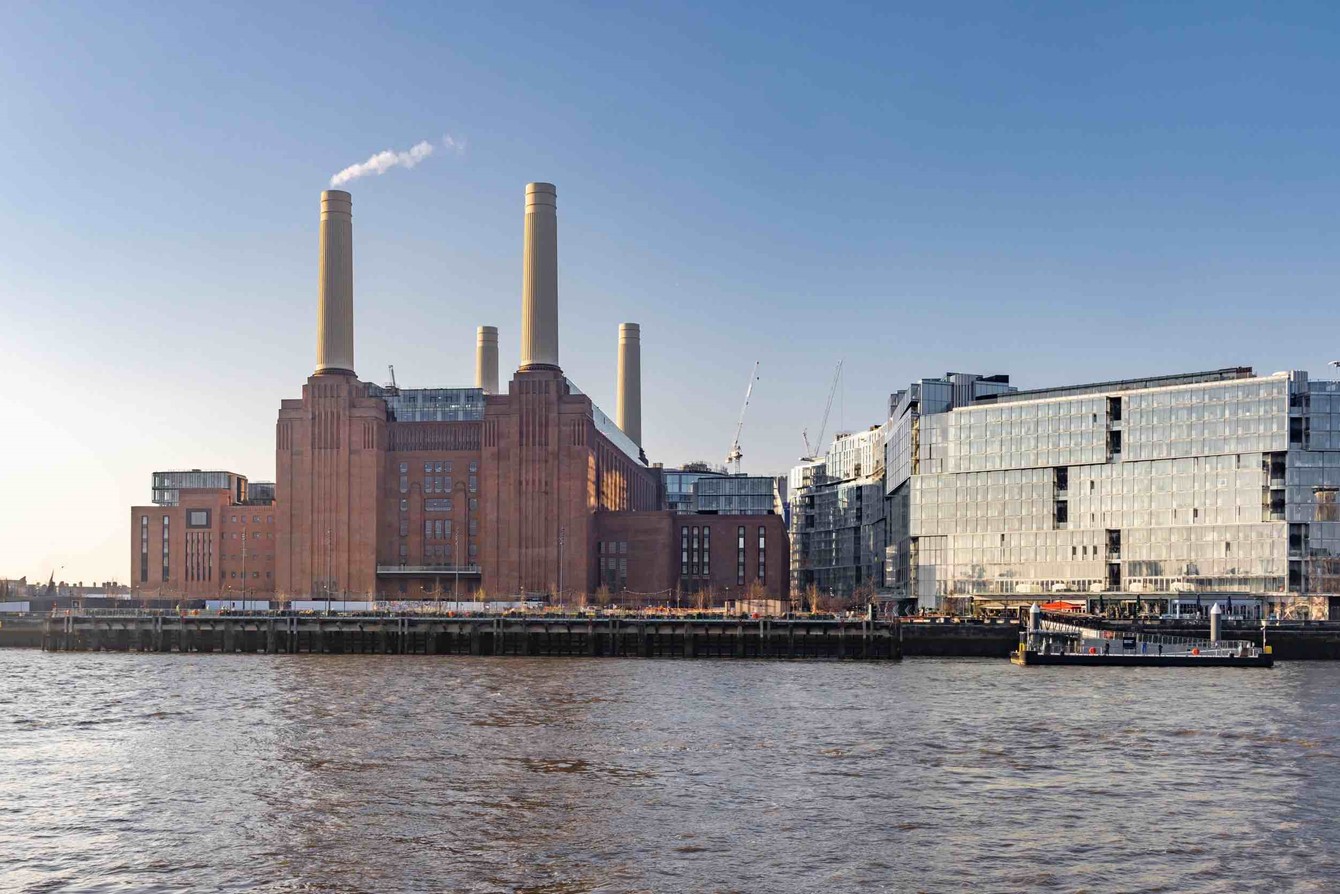 The Brand
Part of the PPHE Hotel Group Art'otel is a collection of premium lifestyle hotels - each inspired by a signature artist.
Located in cosmopolitan centres across Europe - current locations include Amsterdam, Berlin, Cologne and Budapest - each Art'otel property provides a cultural, gastronomic and social hub for its guests.
The Hotel
Art'otel London Battersea Power Station marks the first UK property in the brand's portfolio. And what an entry!
Situated in London's new Battersea Power Station development, the hotel lies adjacent to the iconic Battersea Power Station and set amongst the shops, restaurants and bars of Electric Boulevard.
With 164 bedrooms, 4 restaurants & bars, a public art gallery, a rooftop pool and event & meeting spaces, Art'otel London Battersea offers a glut of activities for both leisure and business guests. And for those with an eye for art (and In keeping with Art'otels artist theme), the hotel's interiors are designed by award-winning Spanish designer, Jamie Hayon.
The Technology
Having previously implemented AV technology into Art'otel's Amsterdam property, Airwave were delighted to once again, work with the Art'otel brand.
On this occasion, Airwave was tasked to provide a premium guest entertainment system, incorporating a comprehensive portfolio of content options:
Art'otel want to provide TV entertainment options for every guest, not just those that have the knowhow and desire to cast their own content. With this in mind, we recommended a Sky Select service, incorporating entertainment, sports and movies plus Sky HD. Wayne Bowring, Head of Hospitality Sales, Airwave
No premium content offering is complete without a line-up of premium Sky channels. This was implemented via a Sky Select Bright Box, delivering content via the hotel's comms room - meaning no requirement for in-room hardware.
Sky's HD content looks great on the 50-inch Samsung 690 Series hospitality displays, desk-mounted in each guestroom. An Otrum Mirage interactive information system was deployed on each TV providing an intelligent platform for the customisation of the display's guest-user interface.
This included a number of pages, including access to hospitality certified Google Chromecast, cloud-based VOD app, Airtime, and a series of information pages.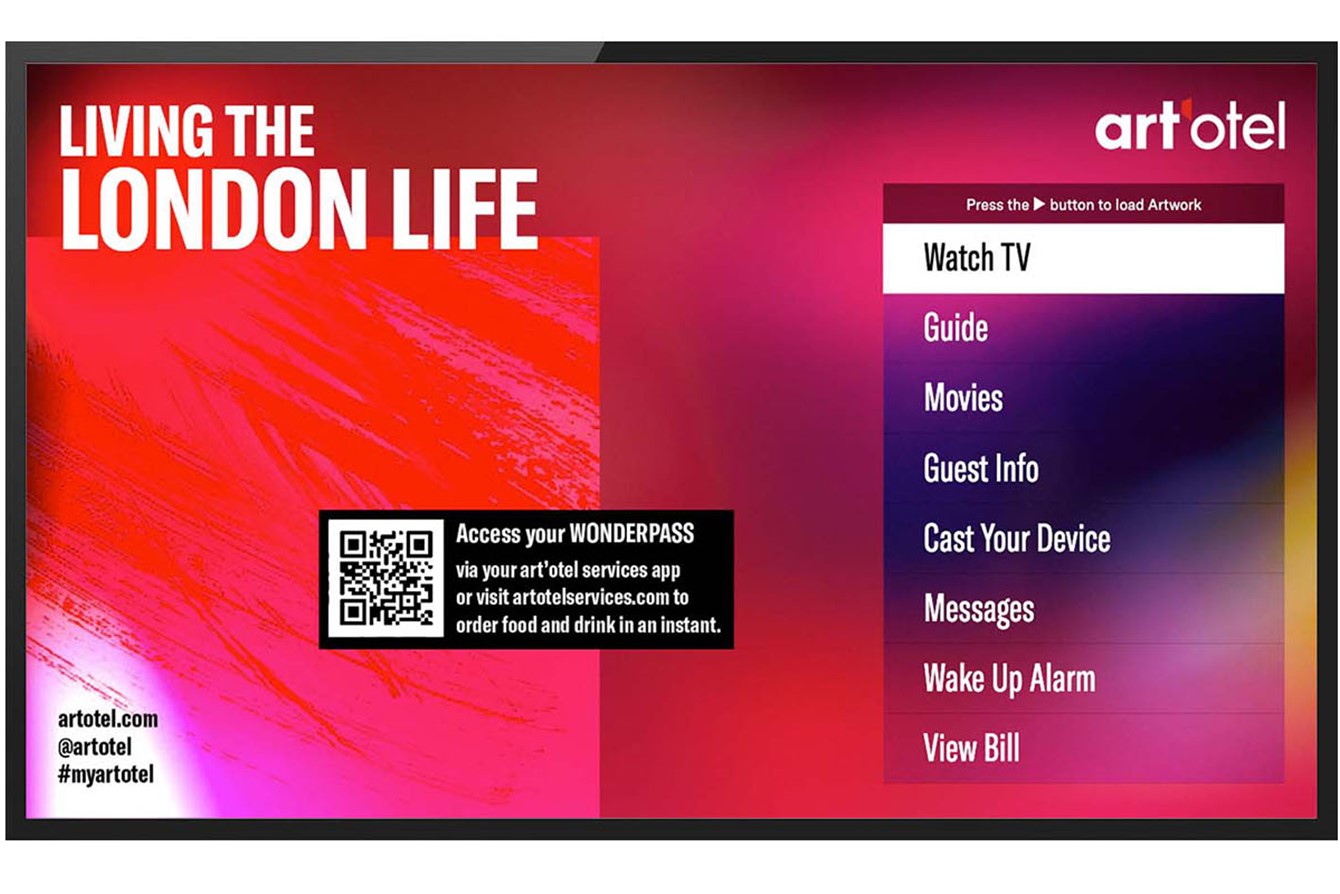 PMS integration was also included in the implementation, offering a number of additional features such as personalised greetings and messages via the TV and room check-out.
 A number of digital signage displays were onboarded with Otrum signage software and installed in various locations throughout the hotel. This included:
- 10 x Philips 10-inch BDL4551T smart signage screens, installed outside the hotel's meeting rooms.
- 2 x Samsung 55-inch QBR Series displays
The signage displays can be used for a multitude of purposes, including (but not limited to): wayfinding, news & weather RSS feeds, F&B and facility promotions, and of course – the displaying of art….
Get in touch
We're passionate about hospitality technology, proud of the work we do and would love to share our enthusiasm with you! Please feel free to get in touch to discuss our portfolio of products and services:
info@airwave.tv or +44 (0)1403 783 483