Airwave
Bodmin Jail
Airwave install a guest-entertainment system into Bodmin's fearsome jail...luckily, now a hotel.
The Hotel
Built in 1779 by Napoleonic prisoners of war, usingt 20,000 tonnes of granite quarried from the nearby moor, Bodmin Jail marked a milestone in prison design, featuring individual cells, segregated male and female areas, and that height of prison luxury - hot water.
A bastion of security, Bodmin Jail was used to house the Crown Jewels throughout World War One, and like most old prisons, harbours a dark, evocative past. 55 prisoners were executed within the jail's walls, with each hanging typically witnessed by thousands of people.
The Project
After its closure in 1927, attempts were made to demolish the building - but the walls were too thick! Instead, the roof collapsed and the rest of the building lay unused and dilapidated for almost 100 years. Now, new life has been injected into this magnificent building, in the form of a stunning new hotel.  
The newly renovated structure combines luxury with history, featuring contemporary design, nestled within the jail's formidable stone walls.
Airwave was delighted to be offered the chance to provide a TV entertainment system into the hotel, opening in May 2021.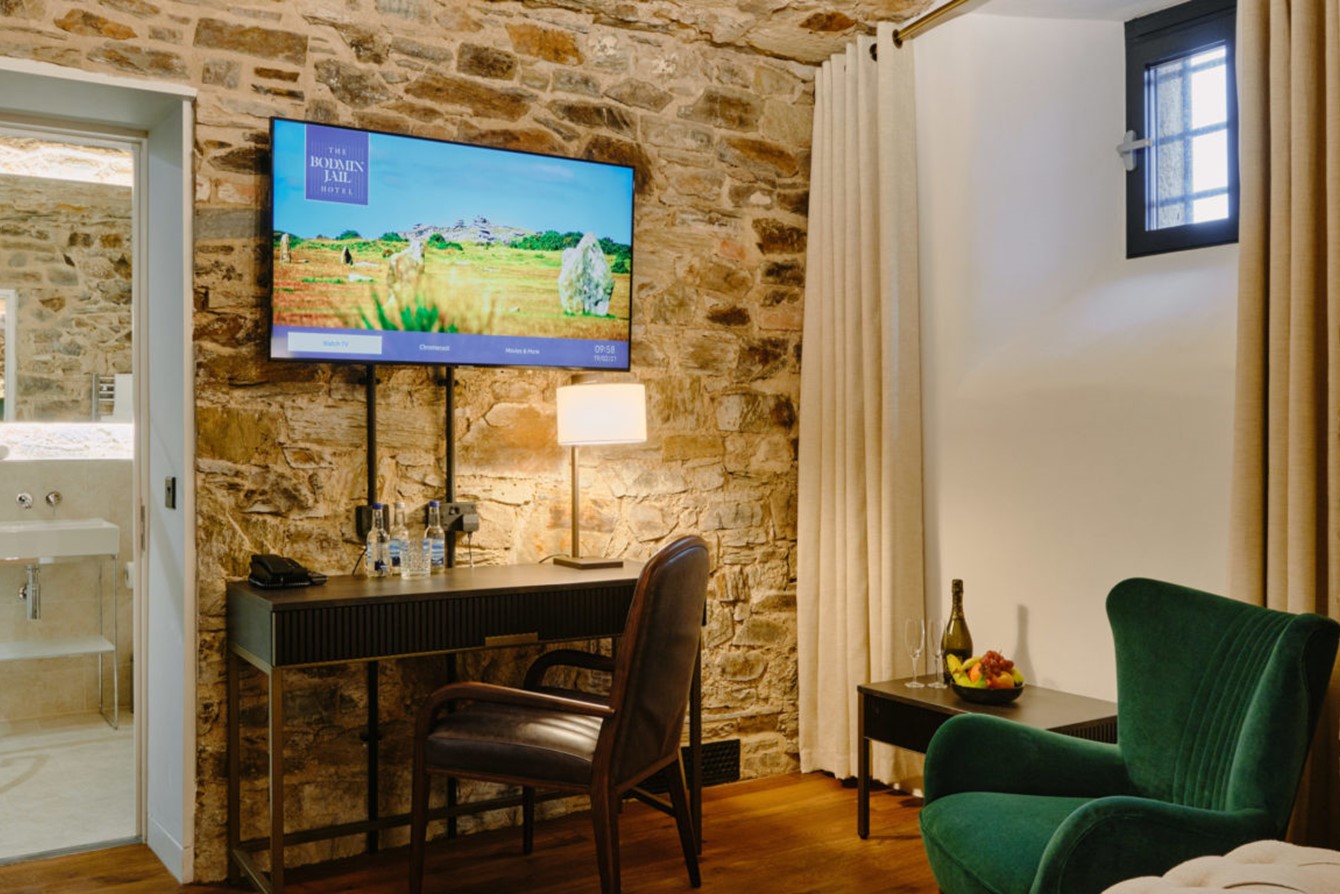 The Technology
Airwave installed TV reception equipment, enabling the delivery of a full line-up of Freeeview TV channels, and implemented a state-of-the-art IPTV headend.
Fronting the system's infrastructure, Airwave installed and wall-mounted 55-inch Samsung 690 Series UHD SMART TVs, embedded with one of the first implementations of Otrum's brand new Mirage cloud-based interactive TV system.
Otrum's Mirage software provides a new benchmark in functionality, offering an API centric platform and infinite design flexibility.
We're proud to have implemented one of the first Otrum Mirage systems, the cloud-based interactive TV technology that has set a new benchmark in functionality, design and affordability Julian Arnold, Product & Technical Director, Airwave
Airwave's design engineers built a bespoke user interface home-screen, with several additional pages, housing hotel information and providing a home for features such as Chromecast and cloud-based VOD app, Airtime.
Otrum Mirage was also used to provide a customer interface on the 3 x 75-inch meeting room TVs, facilitating the user's switch from TV to HDMI, to activate services such as screen mirroring and Chromecast.
Get in touch
We're passionate about hospitality technology, proud of the work we do and would love to share our enthusiasm with you! Please feel free to get in touch to discuss our portfolio of products and services:
info@airwave.tv or +44 (0)1403 783 483