SCCi Alphatrack
BoyleSports
SCCI Alphatrack undertook gantry and EPOS installations in 18 of Boylesports' new shops, and initiated an ongoing maintenance and support package.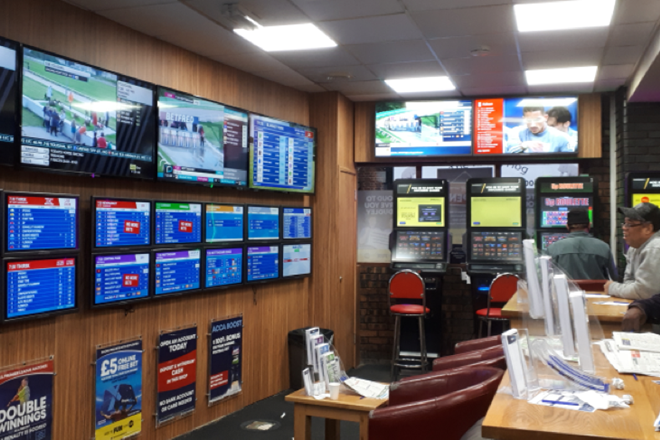 BoyleSports, Ireland's largest independent bookmaker, entered the UK retail market with the purchase of Midlands bookmaker Wilf Gilbert's 13 shops in July 2019.  They followed this up by buying 4 more shops in the Midlands, then the William Hill's chain of 35 shops in Northern Ireland and the Isle of Man.
SCCI was requested to undertake the gantry and EPOS installations to 18 of these shops, and provide an ongoing maintenance & support package.  Simultaneously, SCCI also worked on 'Promote' Upgrade projects on 18 shops while they were in lockdown (starting 11th November and finishing 27th November). 
In Northern Ireland & Isle of Man, SCCI was again requested to assist with gantry installations, implementing these on a Sunday night. This was completed with SCCI's Irish engineering team, with further support from UK based engineers.
SCCI's adaptability enabled quick reaction to any change of plans or schedule and to work efficiently with the other services involved in the shop installation.
The gantry installation required the existing systems and screens to be removed, ahead of the installation of new receivers and Albos units in the AV cupboard - with HDMI and RF distribution to the newly installed screens providing Boyle Sports' corporate image. The EPOS system involved the installation of routers, network switches and the network patching to screens, monitors, scanners, card readers, printers and tills.
All went extremely well with the installs...the lads were absolute soldiers and I was extremely pleased with their work and work ethic. Again, can I reinforce how pleased I was with the guys, it's a pleasure to work with lads that take extreme pride in their work."Cahal Marron, IT Service Desk Manager
Get in touch
We're passionate about technology, proud of the work we do and would love to share our enthusiasm with you! Please feel free to get in touch to discuss our portfolio of products and services:
webenquiries@sccialphatrack.co.uk or +44 (0)1279 630400