SCCi Alphatrack
Holland Gardens, Brentford
SCCI Alphatrack deploy 4Fibre technology into the Holland Gardens gated community in Brentford, South West London.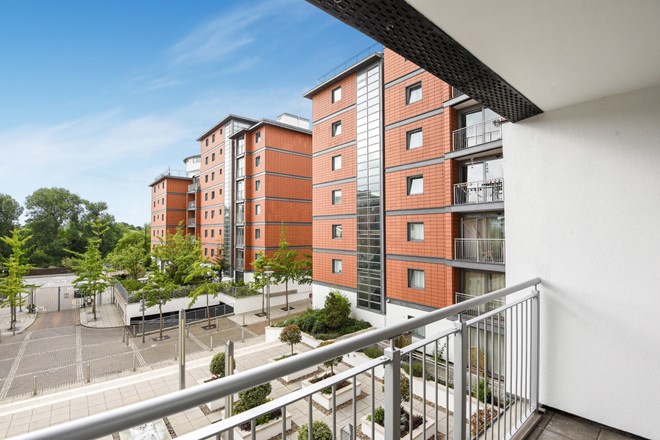 With 172 dwellings across 8 blocks, Holland Gardens is one of Brentford's most popular developments, featuring a picturesque riverside location, 24-hour concierge services and proximity to the shops, cafes and restaurants of the prestigious Kew Bridge area. 
Looking to provide residents with cutting-edge broadband infrastructure, Holland Gardens approached SCCIA, who recommended and implemented its 4Fibre solution, providing access for up to four internet service providers, each with their own dedicated fibre cable, installed through only one penetration of each wall / floor.
A key part of the 4Fibre remit, was an installation that featured no visible cables, trunking or boxes - maintaining the integrity of Holland Garden's slick aesthetic. This involved the cutting of approximately 200 holes in ceilings and fitted hatches, and the termination of each POE box inside each apartment's front door - as the brief did not allow for outdoor POEs.
4Fibre's system provides a low-footprint solution, allowing fully independent access for up to 4 full fibre broadband ISPs within the Holland Gardens estate.
A Typical Aggregation Distribution Position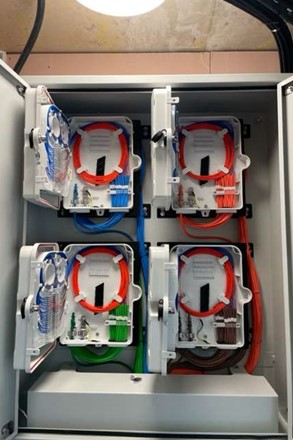 This is a typical primary aggregation distribution position (DP) 'cabinet' - containing four ISP provider boxes (blue, orange, green and brown).
Each primary aggregation distribution position (DP) 'cabinet' can provide service to up to 48 dwellings with four independent full fibre broadband services.
Each DP will be linked by multiple blown fibre tube to the building comms cupboard, BT room or BT upturn.
Once installed - up to 4 independent full fibre providers can service all the flats in each block without running a cable further than the BT Room.
SCCI recommended we have 4 Fibre core fibre optic installed throughout the development of 172 apartments, this will allow our residents a choice of four separate service providers cabled directly into each apartment. SCCI were thoroughly professional throughout the installation, employing good efficient engineering practises, also having high regard for the infrastructure of our buildings, and at all times, maintaining contact with the buildings management group, we highly recommend them. Holland Gardens Resident Community
Get in touch
We're passionate about hospitality technology, proud of the work we do and would love to share our enthusiasm with you! Please feel free to get in touch to discuss our portfolio of products and services:
webenquiries@sccialphatrack.co.uk or +44 (0)1279 630400