Alphatrack Systems
London nHow Hotel
Alphatrack Systems supplied, installed and commissioned a fire alarm system into London's nHow hotel.
Designed by renowned architect, James Soane, the nHow London is a design-led hotel located in London's up and coming East End.
The 190-room property, located in a mixed-use development, includes a restaurant, bar, gym, meeting rooms and 190 guest-rooms.
Alphatrack systems was appointed by Holmes Metrotech to complete the supply, installation & commissioning of the hotel's fire alarm system, disabled refuge system & toilet alarm system.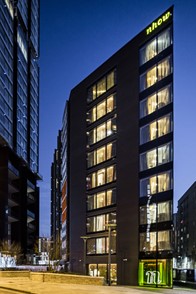 The hotel's eccentric design proved a challenge when ensuring the proposed fire alarm system was installed in accordance with BS5839:1-2017 - and also in line with the interior designer's aesthetic expectations.
Alphatrack Systems provided factory painted black detection devices in the gym and restaurant (to match the black painted ceilings!) and a fire alarm control panel, displaying the latest touch screen and LED warning technology.
A 'traditional' wired addressable fire alarm system wasn't in keeping with the nHow brand's guest-room aesthetic,  as a consequence, Alphatrack utilised wireless technology instead. This Hybrid system removes the need for cabling and/or subsequent containment to be installed in any of the guest-rooms, as a result, retained the exposed concrete slab ceilings' clean cut finish.
Get in touch
We're passionate about technology, proud of the work we do and would love to share our enthusiasm with you! Please feel free to get in touch to discuss our portfolio of products and services:
sales@alphatracksystems.co.uk or +44 (0)1279 630565