Airwave
Park Plaza Amsterdam Airport
Airwave implement Otrum Mirage and PMS integration within Park Plaza Amsterdam Airport's existing estate of TV displays
The Brand
Park Plaza is an upscale brand, featuring contemporary hotels in vibrant city centre locations. Catering for both leisure and business travellers, each hotel boasts modern meeting facilities, premium F&B services and stylish guest rooms. Airwave is proud to be a Park Plaza technology partner, delivering hospitality TV and digital signage systems to each of the chain's UK and Netherlands based properties, including: Westminster Bridge, County Hall, Holmes Hotel, Park Royal, Riverbank, Victoria, Waterloo, Nottingham and Netherlands based Utrecht, Victoria and Vondelpark. 
The Hotel 
Park Plaza Amsterdam Airport is perfectly positioned, servicing Schiphol Airport's travellers and just a short trip to the Netherlands' iconic capital city.
A popular destination for business travellers, the hotel offers 16 meeting rooms / breakout spaces and a plenary space, accommodating up to 450 delegates. Leisure travellers can choose from a multitude of amenities, including a 24/7 games room, gym, cinema room, a 24-hour 'Grab and Go' shop, two restaurants and a whiskey bar.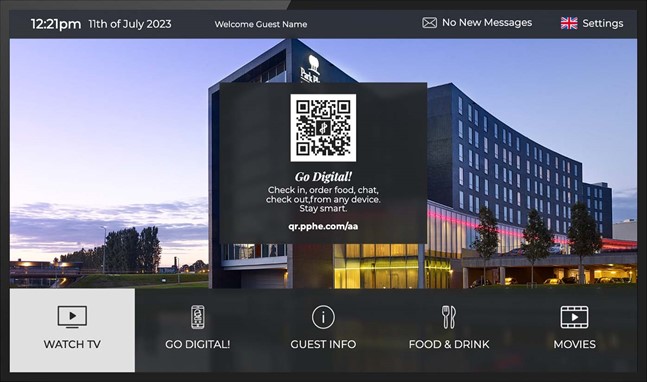 The Technology 
Any busy, amenity rich hotel benefits from a TV system that can house information, providing a useful, easily accessible resource for guests - essentially replacing the classic paper-based in-room directory.
And on this occasion, this was exactly the remit, as Airwave was asked to implement a guestroom entertainment system on the hotel's existing TV estate.
The current system was serviced by a set-top box, providing additional TV channels, but no services. Airwave deinstalled the STB hardware, and implemented an Otrum Mirage guestroom entertainment system, re-configuring each display and adding PMS integration (currently used for a personalised guest greeting), on each of the hotel's 342 displays.
Airwave's technical design engineers created a graphical user interface, based on Park Plaza's standard design - featuring a curated channel line-up, guest information services (including QR links to the restaurant menus), Airtime's VOD movie service and a 'Go Digital' page, using QR technology to allow guests to interact with the hotel on their portable device - services including online check-in and out, and a messaging service linking to a WhatsApp service.
Finishing off the project, Airwave replaced each TV display's remote control with a dedicated Otum RC, and implemented technology to monitor the system, in line with Park Plaza's SLA requirements.
Get in touch
We're passionate about hospitality technology, proud of the work we do and would love to share our enthusiasm with you! Please feel free to get in touch to discuss our portfolio of products and services:
info@airwave.tv or +44 (0)1403 783 483