Airwave
Park Plaza Nottingham
Airwave implement an information system, Google Chromecast, Airtime and a Sky Select service onto Park Plaza's existing TV hardware.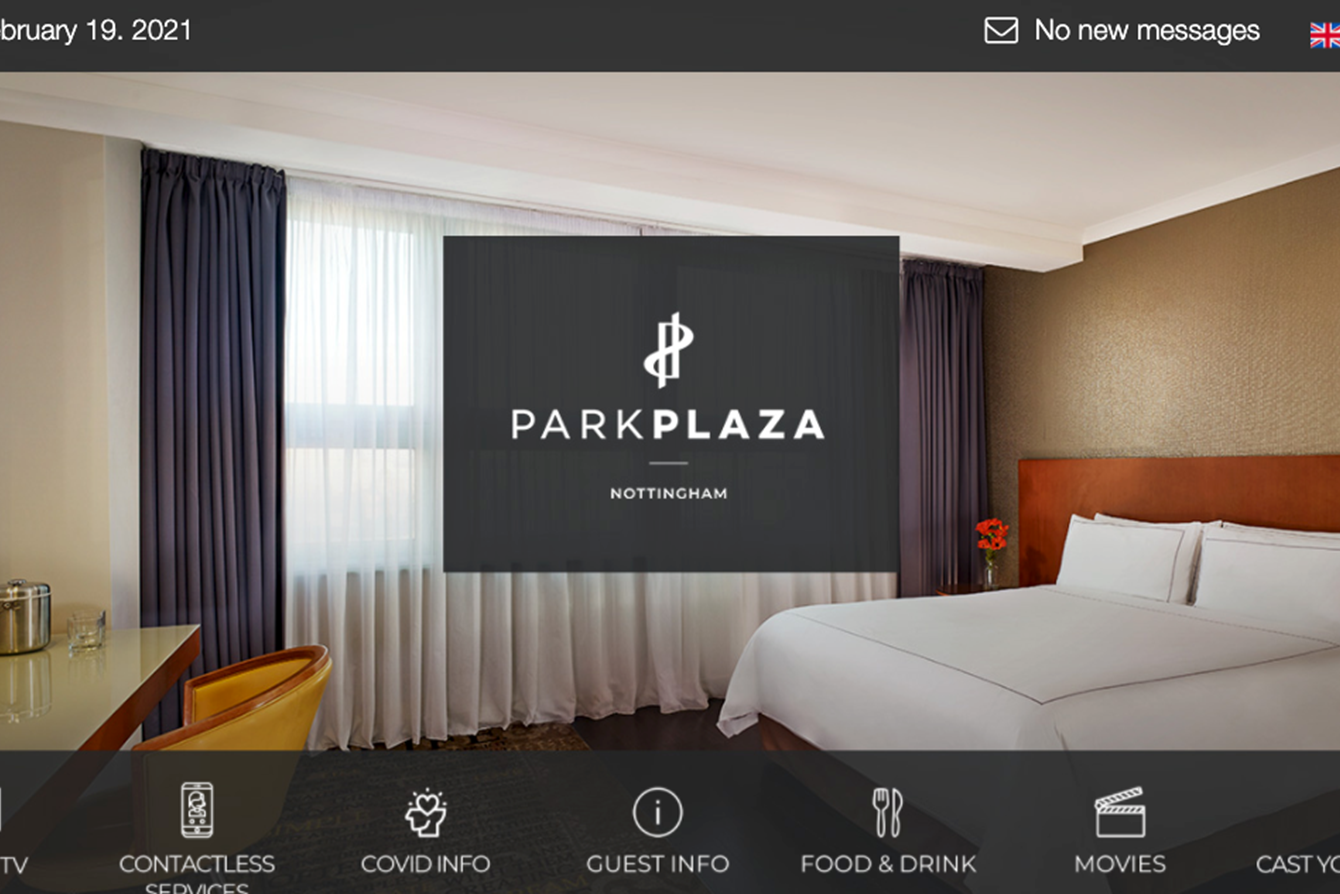 The Hotel
Set over 11 floors in the vibrant heart of Nottingham city centre, the stylish Park Plaza Nottingham's 178 stylish rooms are a welcoming option for both business and leisure travellers.
Featuring an award winning pan-Asian restaurant and 6 AIM Gold accredited meeting rooms, Park Plaza Nottingham prides itself on the provision of a premium hotel experience. Of course, a guest-room full of modern features is a critical component in this, and Airwave was happy to  lend a helping hand in the provision of a new guest-entertainment system.
The Project
On this occasion, it wasn't necessary to replace the TV hardware, the current TVs have a good few years in them and we were asked to breathe new life into the system, via new features and functionality." Tom Chapman, Project Manager, Airwave
Having previously installed Samsung SMART hospitality TVs into the property, Airwave was able to implement complementary technologies onto the existing TV hardware.
Otrum Enterprise Interactive Information System
Key to the refresh was the implementation of an Otrum Enterprise server in the hotel's headend room. This provided each of the guest-room TVs with Otrum's Enterprise information system. Airwave designed and created a series of information pages, offering guests information on the hotel's facilities & local attractions and providing a portal, housing access to smart TV apps, VOD and Chromecast.
PMS integration enables Otrum Enterprise, amongst other things, to use the TV to greet guests by name when entering the room - a very simple, but much appreciated personal touch. Other features available include room service - allowing guests to order, again via the television, food and drink from the hotel's F&B facilities.
Hospitality Certified Google Chromecast
Airwave installed hospitality certified Google Chromecast on each TV, embedding the functionality via a menu on Otrum's system. 
The implementation of Google Chromecast is a bit of a game-changer, essentially turning a television into an entertainment platform." Wayne Bowring, Head of Hospitality Sales, Airwave
Google Chromecast allows a guest to interact with the TV via a (SMART) portable device, offering access to over  1,000 movie, television and music APPS.
Sky Select
Having previously treated guests to a Sky In-Room service, Airwave upgraded the Sky distribution system to Sky Select. Sky Select delivers Sky's premium content into each room via a centralised location, negating the need for a Sky box in each room. This provides a cleaner, remotely manageable solution and a consolidated list of channels - deliverable via coax or IP. And of course, a reduced hardware footprint equals a reduced chance of technical issues and hardware failure.
Airtime
Airwave's final task was the implementation of the cloud-based VOD system, Airtime, on each TV.
Airtime provides a much valued VOD service to guests that don't have a streaming service subsciption or a portable smart device. As such, it provides TV and movie-on-demand to 100% of a hotel's guests. Richard Excell, Operations Director, Techlive International
Get in touch
We're passionate about hospitality technology, proud of the work we do and would love to share our enthusiasm with you! Please feel free to get in touch to discuss our portfolio of products and services:
info@airwave.tv or +44 (0)1403 783 483