Airwave
Park Plaza Utrecht
Airwave install Samsung hospitality TVs, Otrum Enterprise, hospitality Chromecast and Airtime into Park Plaza's Utrecht property in the Netherlands.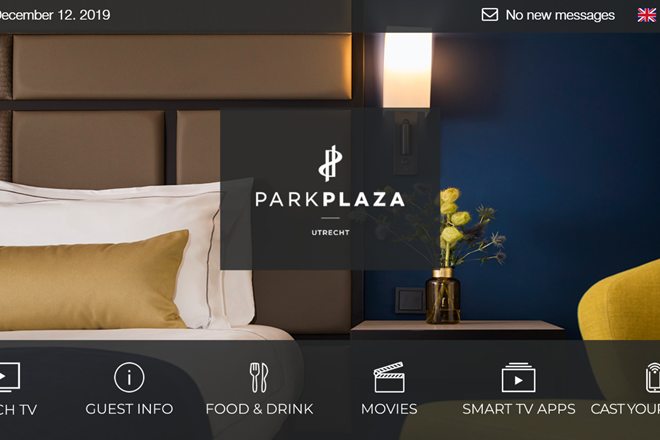 Nestled in Utrecht's pretty Old Town and a short walk from Central Station,  Park Plaza Utrecht offers 120 stylish guest-rooms and an extensive business centre.
In keeping with the Park Plaza brand standard, the Utrecht site is modern and amenity rich - each guest room is air conditioned, equipped with free wifi and of course, a top quality TV entertainment system.
Having previously installed a digital signage network (fronted by Samsung LFD displays) and Samsung HGEE690 SMART hospitality TVs to the guest-rooms, Airwave was tasked to breathe new life into the guest-room TVs.
First on the job list was the installation of an Otrum Enterprise server in the hotel's headend room. This provided each of the guest-room TVs with Otrum's Enterprise information system. Airwave designed and created a home-page and a further 10 pages, offering guests information on the hotel's facilities & local attractions and providing a portal, housing access to smart TV apps, VOD and Chromecast to use a few examples.
Further work completed included PMS integration, essentially a vehicle for the provision of room service on the Otrum system - this allows guests to order, via the television, food and drink from the hotel's F&B facilities, offering PP Utrecht with operational agility and of course, a valuable extra revenue stream.
Not forgetting a TV's primary function - entertainment - Airwave installed hospitality certified Google Chromecast on each TV, embedding the functionality via a button on the Otrum system. Chromecast offers an almost infinite supply of television content via the guest's SMART device.
"We were able to completely refresh Utrecht's TV system, without having to upgrade the actual TVs" said head of hospitality sales Wayne Bowring "this is what makes Google Chromecast such a powerful proposition."
Airwave's final task was the implementation of the cloud-based VOD system, Airtime, on each TV. "Airtime provides a much valued VOD service to guests that don't have a movie streaming service subscription or a portable smart device. As such, it provides TV and movie on-demand to 100% of a hotel's guests" said Techlive content executive, Reece Aherne.
Get in touch
We're passionate about technology, proud of the work we do and would love to share our enthusiasm with you! Please feel free to get in touch to discuss our portfolio of products and services:
info@airwave.tv or +44 (0)1403 783 483